Girl in the Middle
By: Christine H. Bailey
Welcome to my stop on the Girl in the Middle blog tour! Find my review down below. And a huge thanks to Buy the Book Tours and Christine Bailey for sending me a free copy!
Genre: YA Romantic Suspense
Publisher: Vinspire Publishing, LLC
Publishing Date: September 22, 2013
Length: 210 pages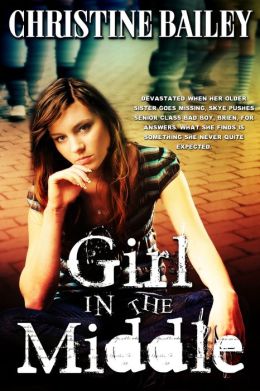 Summary
: Fifteen-year-old Skye, the middle child, finds herself wishing for a new life-one that doesn't include daily harassment from the in-crowd at Highland Creek High School. Skye barely survived freshman year. She only did because her best friend, Goose, a semi-popular fellow band geek, was by her side. But when their sophomore year starts, Goose ditches Skye for a new crowd. Cast into a lone existence at Highland Creek, Skye wishes for a touch of extraordinary that everyone, except her, seems to have. Her older sister, Sara Elizabeth, has it. Goose is getting close to it, and even her little sister is wildly popular in junior high. Skye would do almost anything to cast off her ordinary life...but at what price? When her older sister goes missing without a trace, Skye gets her wish...but it's not exactly what she had in mind. And when she questions Bryan, the senior class renegade and also the last person to be seen with her sister, she finds something she never quite expected.
Excerpt: "Your essay was a little disturbing to Ms. Stone," said Mr. Munsey. "She asked me to read it and give her my thoughts. That's why I'm here." Mr. Munsey, a large and bushy-haired man, looked about the same age as Ms. Stone, like around thirty-something probably. He had the mountain-man look—okay on a movie star, but not so much on Mr. Munsey.
"I don't even remember what it was about. I wrote it last week when I had my migraine.
"A story about 'offing the populars,' as you put it," Mr. Jones said.
I slumped into a chair and said, "Oh. My short story."
"Skye, we're just concerned…" Mr. Munsey said. "About you being bullied." He really dragged out the word concerned.
"I'm fine, and the story was not a hit list or plan or anything. I was just having a bad day and wrote a stupid story. It was like therapy. It was supposed to be funny, actually."
"Well, it's enough to make us question you," Mr. Munsey said.
"It's not a journal entry," I said. "It's not a cry for help or anything. I was just writing. It's a fictional story about a school with no populars. No hierarchy. No Queen Bees or loud-mouthed jocks."
My Thoughts: I fell in love with this book. I actually knew that I had to read it for a blog tour and so, taking a break from my writing, I thought I'd start. After not moving for way too long, I finished the book. One sitting. That's how great it is.
I can honestly say I wasn't expecting anything that happened. It kept me on my toes and satisfied. Nothing was predictable. I was suspecting some grisly murder, but no worries, it's clean. There is also a really cute romance in the book. I don't really love reading romance, but this was fantastic.
The characters were well thought out and quite relate-able. The diction was strong, but not unnecessarily wordy and annoying. The descriptions were realistic. Every word made me want to read another page.
All in all, this was a phenomenal debut novel. I will definitely look forward to anything else Ms. Bailey writes.
Pros: Plot, characters, cover, EVERYTHING
Cons: There is not really a huge climax, which actually appealed to me more. It may bug other readers, I'm not sure.
Rating
:
5 stars!
So easy to rate this one.
Christine H. Bailey teaches Creative Writing and Written Composition at a private university in Tennessee. Before teaching English, Bailey worked as a journalist, a marketing/public relations writer, and a freelance editor.
Girl in the Middle is Bailey's debut novel. To learn more about this author and her work, visit her online at www.cibailey.com.