So I learned that Jenna Does Books also does Make it a Movie Monday...I swear I'm not copying, Jenna.
Today is another new feature *yay!*

To Read Tuesday

. I've seen so many versions of this so I thought I'd create my own!
Today's To Read is The Rule of Thoughts by James Dashner.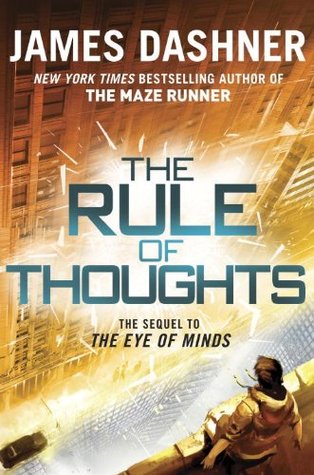 This is such an amazing cover and I can't even fathom how great the book will be.
So a little backstory on The Eye of Minds: Michael is a gamer and he practically lives in VirtNet, a gaming community, which is awesome and totally a live or die situation. And now there is some player who is taking other gamers for hostage and they all get back to real life brain-dead. Michael has to help catch the gamer by going off the grid and he does this entire adventure and it's just really good. And that plot twist ending? Wow.
I actually had the awesome chance to talk to Mr. Dashner after a book signing event. We literally talked for about half an hour on The Eye of Minds and The Maze Runner series, which cleared a lot up for me.
Release Date: August 26, 2014
Publisher: Delacorte Press
Summary: Michael completed the Path. What he found at the end turned everything he'd ever known about his life—and the world—completely upside down.
He barely survived. But it was the only way VirtNet Security knew to find the cyber-terrorist Kaine—and to make the Sleep safe for gamers once again. And, the truth Michael discovered about Kaine is more complex than they anticipated, and more terrifying than even the worst of their fears.
Kaine is a tangent, a computer program that has become sentient. And Michael's completing the Path was the first stage in turning Kaine's master plan, the Mortality Doctrine, into a reality.
The Mortality Doctrine will populate Earth entirely with human bodies harboring tangent minds. Any gamer who sinks into the VirtNet risks coming out with a tangent intelligence in control of their body.
And the takeover has already begun.
Wow. I mean I was ready a while ago (approximately last October) but now I'm dying. I need this book so bad. Just the entire idea of Kaine and Michael and seeing how Michael reacts to the plot twist I mentioned. And I want to know how the other characters are doing and just everything. I don't think I'm even making sense right now, but that's okay. Who needs sense when you have books?
The Rule of Thoughts is available for preorder through Amazon, Barnes & Noble, and other booksellers.