As you may (or may not) know, I am a host with the lovely and most amazing company, Buy the Book Tours. And they, being awesome, have decided to host a Friday night block party-style event in which we hosts can review practically anything. I was going to review LeakyCon, which I just attended, but I'm actually going to save that, simply because this review has taken way too long.
I am the Messenger
By Markus Zusak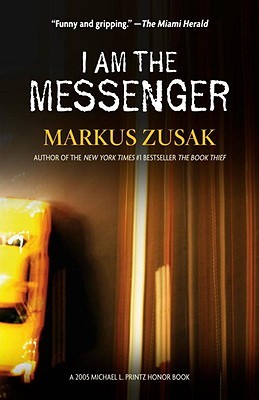 Unfortunately
, this will be more of a mini review than anything because with school started again, I barely have any time ugh.
Synopsis: Ed Kennedy is an underage cabdriver without much of a future. He's pathetic at playing cards, hopelessly in love with his best friend, Audrey, and utterly devoted to his coffee-drinking dog, the Doorman. His life is one of peaceful routine and incompetence until he inadvertently stops a bank robbery.
That's when the first ace arrives in the mail.
That's when Ed becomes the messenger.
Chosen to care, he makes his way through town helping and hurting (when necessary) until only one question remains: Who's behind Ed's mission?
Plot: Oh my goodness, this book was fabulous. Everything, from the first page to the last, was great, with every new card Ed received, I loved it. It's also an extremely original concept for a novel. I'd never seen anything like it, nor do I believe similar things will ever be written. At least, not half as well. Zusak is truly an artist when it comes to his writing. The ending might have been a tad bit predictable, but honestly, it made it better for me. I enjoyed guessing who it was and wow. The plot twist at the end is crazy big.
Characters: Original. Ed, Audrey, the Doorman, Marv. Every single person has his/her own distinct personality and I know what each would and would not do. Zusak could write chapters in a different POV and you would know who was speaking. It's fantastic.
Thanks to Markus Zusak for thrilling me with another masterpiece. He's a talented man and everyone should read something from him at least once. (Sound a bit biased, do I?) Actually, this was on my school reading list, so I mean it that everyone should read this:)
I'm so happy to be a part of the block party! I would share a recipe or SOMETHING, but I don't really have any personal ones. I guess I make Fettuccine Alfredo. Tell me if you want the recipe and I can toss that in next week's post. Sometimes I make pigs in a blanket. I know how difficult those are so if you need any help, I'm here for you.
Thank you for stopping by. It really means the world to me that people are reading my blog. I'll be posting again soon. Happy hopping!
~Ashley