So, being me, I finished this book last week but I haven't been able tot think about how I would put my thoughts into words until today. And now I'm ready. Let's begin...
Ice Massacre
By Tiana Warner
Synopsis: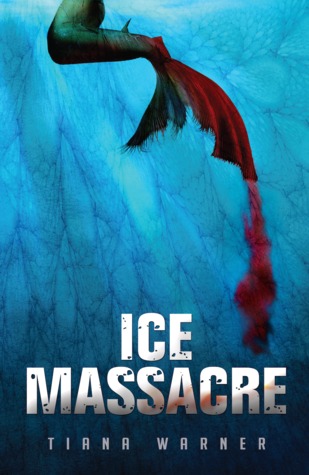 A mermaid's supernatural beauty serves one purpose: to lure a sailor to his death.
The Massacre is supposed to bring peace to Eriana Kwai. Every year, the island sends its warriors to battle these hostile sea demons. Every year, the warriors fail to return. Desperate for survival, the island must decide on a new strategy. Now, the fate of Eriana Kwai lies in the hands of twenty battle-trained girls and their resistance to a mermaid's allure.
Eighteen-year-old Meela has already lost her brother to the Massacre, and she has lived with a secret that's haunted her since childhood. For any hope of survival, she must overcome the demons of her past and become a ruthless mermaid killer.
For the first time, Eriana Kwai's Massacre warriors are female, and Meela must fight for her people's freedom on the Pacific Ocean's deadliest battleground.
My Thoughts:
Oh my gosh when is Number Two coming out?! Are you kidding me?
Ice Massacre
was so incredible!
All right, so right away, the reader is hooked. I LOVE that. We start with a boat full of male sailors that we actually don't really know until some time later. The action starts immediately and just keeps going. We are introduced to our main antagonists, or plural I suppose, because it is a species. Then we jump into the training sessions of Meela, our main character. We see that she is about to go on the same thing that was just shown.
I like that for two reasons. 1, it really connects the reader to the character. We've just seen what these monsters are doing, then we see that Meela has to go on the same trip, possibly with the same outcome. I felt so scared for her for so long. 2, we also get more background into the new world. We see that the sea demons, mermaids, sirens, whatever you want to call them have been attacking this tiny little island. And the island keeps sending boys out yearly to attack.
That's another thing that I really approve of in here. The originality of the story. Twenty boys yearly are sent to battle something that can so easily slaughter them. Then, after they fail for so long, after so many families have lost members, a group of twenty girls are sent. Yeah, the females. There were the understandable protests trying to protect them, but they went anyways. I like how the tables turned and the women got some power. I also like how the females, even in a literary power position, still act like females. Strong females, no less, but they don't take over and want to overthrow the men, nor do they think they are ten times better than the men. I think that's rather important, too, as I really don't approve of the "I'm female; let's kill all the males" idea. I like the equality experience.
Yay for the backstory! I was slightly confused at first when we were in the past, but definitely cleared up ASAP. I love how we see child Meela and child Lysi, her sworn enemy. I like their friendship, as well. I love seeing all of Meela's interactions with child everyone, including her two current best friends.
This book is all about diversity and friendship. I kinda got the romantic inkling throughout, but I still very much liked how it was put in. One thing I enjoyed is how it wasn't just "thrown in" randomly; it was very hinted at throughout the entire book. I LOVE that. I like how the relationship was very planned-out. I like how it is "new" in the sense that homosexuality in YA novels is just becoming popular. I think it is excellent. However, I didn't like the very last line (SPOILERS:"I was in love with a mermaid") only because I felt like the story was about that, yet so much more. I don't know, I just wanted a different last line.
Wow I cannot wait for the next book. I honestly, I'm just so excited! Yay for this book and everything in it because it was incredible, from page one to 100%. I'll be grabbing a paperback copy soon.
Rating
:
5 stars
About the Author:
Tiana Warner was born and raised in British Columbia, Canada. She enjoys riding her horse, Bailey, and collecting tea cups.
Follow her on Twitter @tianawarner
~Ashley