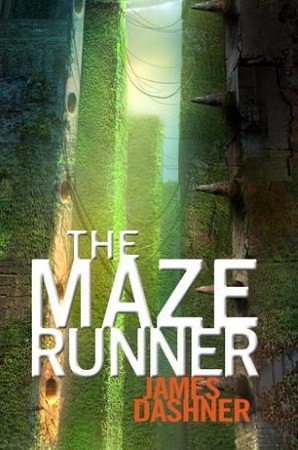 The Maze Runner
James Dashner
If you ain't scared, you ain't human.
When Thomas wakes up in the lift, the only thing he can remember is his name. He's surrounded by strangers—boys whose memories are also gone.
Nice to meet ya, shank. Welcome to the Glade.
Outside the towering stone walls that surround the Glade is a limitless, ever-changing maze. It's the only way out—and no one's ever made it through alive.
Everything is going to change.
Then a girl arrives. The first girl ever. And the message she delivers is terrifying.
Remember. Survive. Run.
In case you weren't aware, The Maze Runner is one of my favorite books/series/movies/etc. of all time. I read it close to four years ago and I fangirled alone for about two of those years. Now there are thousands (millions?) of us and I couldn't be happier.
The series follows Thomas and Newt and Theresa and Minho and dozens of others (until later, when it focuses on a select few) through the Glade and the Maze, the Scorch, and then on their way to find a cure for the Flare. It's full of action and friendship, leadership and sacrifice. It's full of fun and anger, but most of all, it's filled with hope.
It's a series that has stuck with me as few others have. I'll continue to read it over and over, as well as James Dashner's new series, The Mortality Doctrine.
A lot of my love for the series has to do with James Dashner himself. I remember when he ran a contest on twitter for a signed book if we could guess the correct time he'd hit 20,000 followers. Yeah, I got my signed book. And then, I drove nine hours to Nashville to meet him for the first time. He signed my books and then we got to talking for half an hour about TMR and his new series. Of course, the story doesn't stop there. Last year, I drove thirteen hours to South Carolina for YALLFest, an annual thing for me, but better that year because he'd be there. He signed my books and even remembered who I was.
Needless to say, he's a down-to-earth guy who cares about his books and his fans. He knows that authors need fans to be as popular as he is. He's not snooty. He's kind. It makes me want to read his books, not just because they are incredible, but because it helps him, as well.
But I have all of my books signed by James, so I decided that one lucky person should also add a signed TMR to their collection. That's what I'll be giving away.
Giveaway:
One (1) Winner will receive a signed copy of The Maze Runner
*I am not responsible for any lost or damaged packages*
*US only-Unless you want to pay for international shipping*
~Ashley